As space is the constant, I continue to 'play' with different configurations on how best to store my hand-knits and how best to organize the stash.  Consequently, the look in the yarn room keeps changing as I now use one room and its closet for both.  Questions I ask myself:  How can I store my obsession without looking like a hoarder?  How can I see my full stash when it is time for creating?  How can I treat my hand-knits to the best care for longevity?  Light in the room?  And, so forth.
In drilling down for answers, I've been reading.  Topics such as:  How do you store hand-knits?  Is there a special way to fold sweaters?  What shelving and/or containers are best for breathability of natural fibers?  I am asking these questions because my hand knits are my wardrobe.  I am noticing that when I pull out a sweater I haven't worn in a while, I am seeing fold marks.  Do people steam out those fold marks?  Is that healthy for the fibers?  Is there a way to prevent what seems like permanent folds in a garment?  You see, I can go on and on with questions like this.
In my research, I have gleaned a few common recommendations:  store away clean, give space for air circulation, and keep out of direct light when storing.  So, to that end, I evaluated my current system of storage and have since found ways to improve to allow for this criteria.
Store away clean has not been a problem as who in the world stores away clothes that are dirty?  (mumbling)  Most of my sweaters are worn with a layer underneath which helps with body sweat and such and after a duration of time in wearing, gets their due cleaning.
Give space for air circulation has gotten my attention.  I have been storing my sweaters in plastic bins.  Articles give this a thumbs up.  So many per bin with storing the heaviest on the bottom is a good start.  A way to improve on that, according to these resources, is to store and fold sweaters in that bin with tissue paper, that is, acid-free tissue paper and to fold in a particular way.  Of course, I thought, as isn't that how wedding dresses and other special care items are stored?  The articles contradicted in where to put the paper, between sweaters or in the folding of them.  But, I thought once I had the paper, I could 'play'.  And, play I have done.  I purchased lots of packages from JoAnn Fabrics, online.  Seems like they do not carry this in stores.  I also learned this paper can be purchased at some dry cleaners.
Here is the paper between the sweaters.
Sometimes, when I pull a garment to wear I do notice the fibers of one caught on the fibers of another so this would help with that.  I do like the way the paper makes a sort of shelf and you can easily see where each is when standing back and deciding what to wear.
But, I thought, what about the wrinkles?  How do you fold the tissue paper inside the sweater?  I actually found some answers [HERE].  So, of course, I played.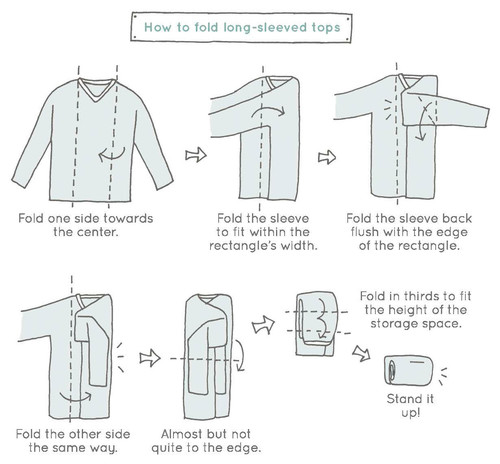 ~
~
Here is a finished bin with the paper folded in each sweater.
~
I like the way this bin looks over the first attempt AND more importantly, articles say will do away with the folds!  The tissue paper surprisingly gives the folded garments durability. How luxurious to pull these from the shelf when going after them to wear.  Much like a high-end retail wraps merchandize in paper, my hand knits are wrapped with high-end care.
Out of direct light is my last concern and continues to linger.  Currently, my garments are stored in that beautiful cedar chest above, clearly out of light and in a closet that is out of direct light but could easily be more darkened.  I love seeing the collection with the door removed so there is some conflicting, there.
All in all, I feel like I have given these knits a gift of love and maybe a sense of rejuvenation as I will be calling on them in the new year.